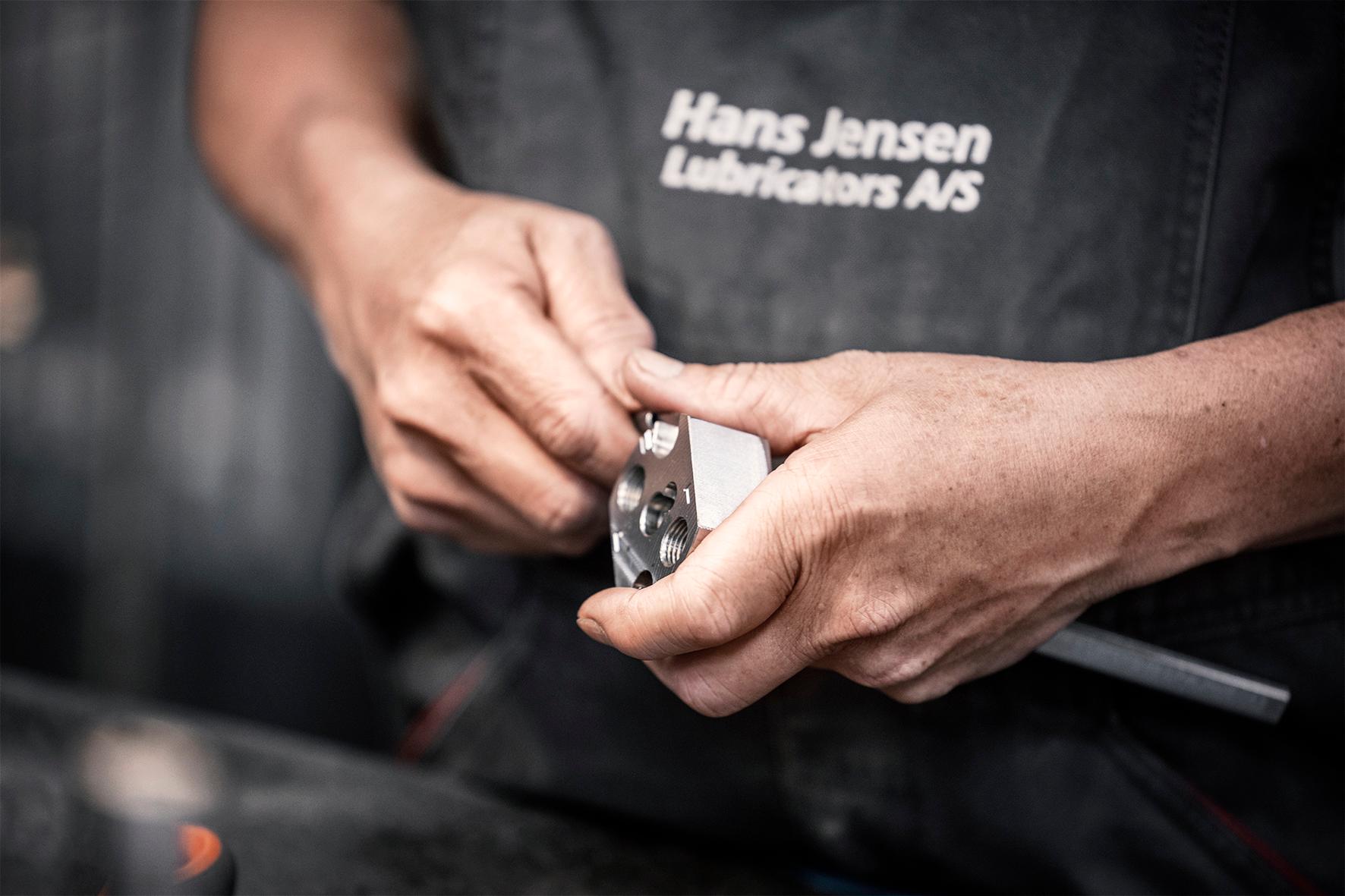 About Hans Jensen Lubricators
Hans Jensen Lubricators (HJL) is the leading global provider of cylinder lubrication systems for two-stroke marine engines. After more than 100 years in operation, we have retrofitted more than 3,500 vessels worldwide.
Products
LUBRICATION TECHNOLOGY
HJL is a global leader in advanced lubrication technology for retrofit and new builds – regardless of engine type or brand. Our technology is the only to inject fresh oil during each piston stroke and atomizes cylinder oil in the combustion chamber.
Services
GLOBAL SUPPORT 24/7
We are with you all the way. Ship owners and technical managers across the world benefit from the range of services we provide. Optimization, reconditioning and training are just some of our offerings. We are available every day of the year, 24/7, in case of emergencies.
Knowledge
CYLINDER SPECIALISTS
HJL is the only company in the world to specialize in cylinder lubrication for two-stroke marine engines. We have a deep understanding of engine complexity and cylinder optimization during the entire engine lifetime.
Our story
Hans Jensen Lubricators was founded in 1917 in Copenhagen, Denmark by engineer Hans Peter Jensen. After sailing for 7 years at sea with DFDS, Hans Peter went ashore and started a 25 sqm. blacksmith shop. He was contacted by Danish shipyard B&W, who were looking for a partner to produce lubricators for large, diesel-powered ocean liners.
This created the need for a factory to help the company make lubricators on a larger scale, and as operations continued to expand, the company moved to Hadsund, Denmark, where it is based today.
HJL's first SIP valve was born in the 90s – a product of real innovation from the company's expert engineers. The 'Swirl Injection Principle' is a patented method for optimized lubrication of the cylinder liner by atomizing the spray of lube oil into the combustion chamber. More lubricator models soon joined the product range, with the HJ Smartlube becoming the icon of the HJ-series.
In 2014, the Singapore office opened under the management of the fourth generation of the Jensen-family, who are in charge of daily operations today.
In 2022, HJL became part of the Danish G&O Maritime Group, which is a cluster of maritime companies covering various needs aboard vessels. The collective mission is to make vessels a greener and safer place to work.
3,500+
Vessels retrofitted
Management team
CEO Ramus Hans Jensen (right) and CCO Christian Hans Jensen (left)
Part of G&O Maritime Group
In the summer of 2022, Hans Jensen Lubricators was acquired by G&O Maritime Group. The decision was made to drive opportunities even further on a global scale and benefit shipping companies, with G&O Maritime Group as a group of quality, niche sub-system providers to the maritime industry, striving to make vessels a greener and safer place to work. The companies have a long and proud history of inventing market leading products.
The board of G&O Maritime Group includes some very experienced profiles within the maritime world.
Bank and payment
Bank:
Sydbank
Peberlyk 4
6200 Aabenraa
Denmark
BIC: SYBKDK22
IBAN: DK5680720001058982
Account no: 8072 0001058982
VAT reg.no.
Import: 11 22 10 33
Export: 57 96 97 68
Download our catalogue
Get a complete overview of our offerings and explore client case studies – all in one file.